Go further with cancer screening
Introducing Galleri®, the first-of-its-kind multi-cancer early detection test that looks for a signal shared by 50+ types of cancer with a single blood test.1
The Galleri test does not detect a signal for all cancers and not all cancers can be detected in the blood. False positive and false negative results do occur.
What is the Galleri test?
Galleri redefines what's possible. Only 5 cancers have recommended screening tests.2 Using Galleri in addition to these tests can increase the chance of finding cancer early, to allow for earlier treatment.1,3
With a single blood test, Galleri screens for a signal shared by multiple cancers that would otherwise go unnoticed.1,4 If a cancer signal is detected, Galleri predicts the tissue type or organ associated with the cancer signal with 88% accuracy* to help guide follow-up diagnostic testing which may include lab work or imaging to confirm cancer.4

*In the PATHFINDER study, Cancer Signal Origin (CSO) prediction accuracy was 88% for participants with a cancer diagnosis among study participants with a "Cancer Signal Detected" test result.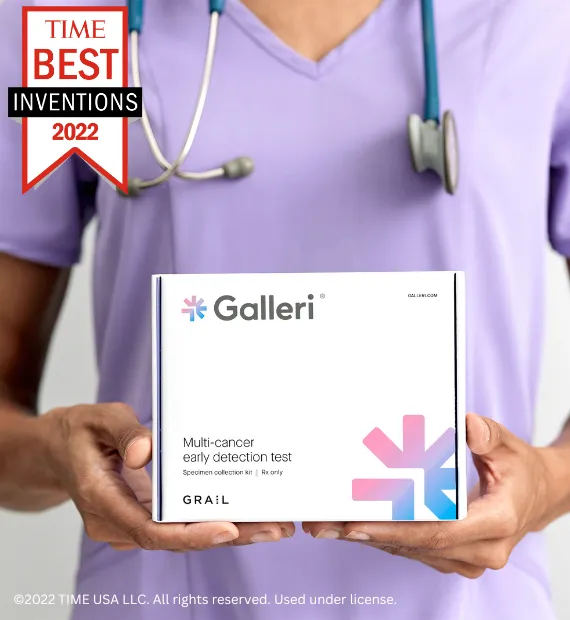 Who is Galleri for?

Age is the biggest risk factor for cancer. In fact, adults over age 50 are 13 times more likely to have cancer compared to people under the age of 50.5 Cancer risk increases for everyone as they age regardless of family history—only 5% to 10% of cancers are inherited.5,6
The Galleri test is recommended for adults with an elevated risk for cancer, such as those aged 50 or older.
The Galleri test is available by prescription only.

Use of Galleri is not recommended in individuals who are pregnant, 21 years old or younger, or undergoing active cancer treatment.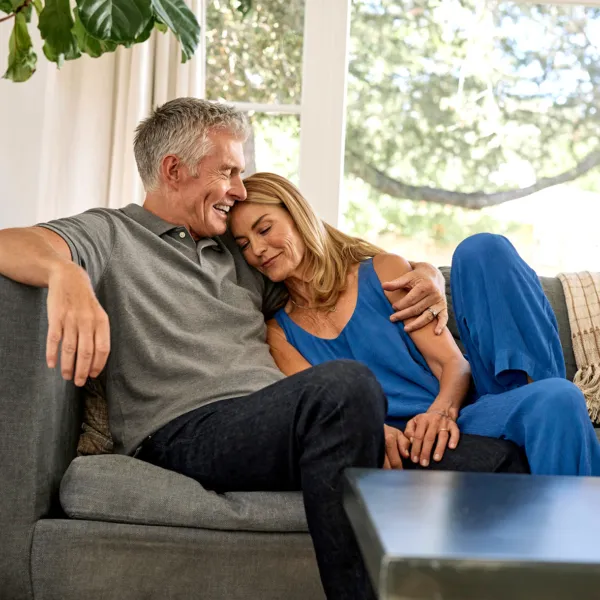 Sign up for more information about Galleri
Patient testimonial: Cindy

Patient testimonial: Mary and her doctor, Robert Korolevich, MD

"

There are a couple ways to go through life and I am choosing to just embrace it and have all the fun I can. And Galleri gave that to me.

"

Mary

Patient testimonial: Roger

Patient testimonial: Valerie

"

I feel like this test was made for me and I appreciate it so much. I'm going to be able to live my life because we found it so soon.

"

Valerie

Patient testimonial: Keith

No Cancer Signal Detected

Patient testimonial: Tami

No Cancer Signal Detected
Supported by

robust clinical data

, Galleri sets the standard for multi-cancer early detection
20,000+ individuals participated in large clinical studies1,4
News

Galleri Named to TIME's Best Inventions of 2022

Video

Panel Discussion: The Bleeding-Edge of Early Detection

News

The way we approach cancer is about to change forever

News

A New Test for Cancer: Grounds for Optimism
Have more questions?
Please answer the following questions to fill in the appropriate form.

You can also contact us at (833) 694‑2553 or use the chat feature on the bottom-right of this page for additional help.
What describes you best?

What are you looking for?

Fill in the form
Give the gift of Galleri and save now
This holiday season, take advantage of this limited-time discount of $100 off the Galleri® test so you and your loved ones can start screening for more cancers.

Enter the Galleri Key to receive $100 off: 23GIFT100
This offer is only available for Galleri tests requested online at Galleri.com through an independent telemedicine provider. You must be 50 years or older to take advantage of the offer. Eligibility will be assessed at the time of your test request. The discount only applies to full-priced, self-pay tests priced at $949 and will expire on December 31, 2023. Galleri is not covered by most health insurance plans.
Happy holidays!

*Limited time offer valid only for Galleri test orders placed November 27, 2023 12:00am PST through December 31, 2023 11:59pm PST. Valid only for Galleri test orders requested online and approved by GRAIL's contracted independent telemedicine healthcare provider. Offer does not confirm your eligibility for the Galleri test. Valid only for one-time use on domestic U.S. Galleri test orders only. Offer valid only for discount off of list price Galleri test orders ($949) and cannot be combined or used with any other discount, promotion, special pricing, or payment plan. Cannot be used to request a credit on a test order placed prior to the offer period. Cannot be posted online or on any other publicly available forum. GRAIL reserves the right to change terms and conditions, substitute offer of equal or greater value, and end offer at any time without notice. You must create an account to redeem this offer and enter the code at the "Introduction" stage, where prompted.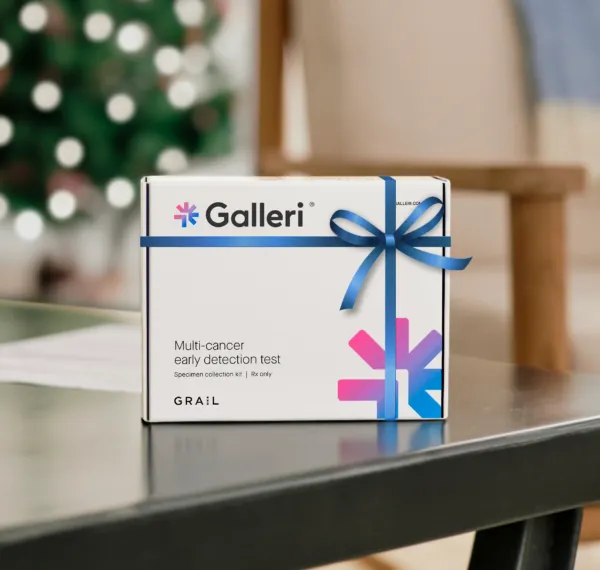 The Galleri test is recommended for use in adults with an elevated risk for cancer, such as those aged 50 or older. The Galleri test does not detect all cancers and should be used in addition to routine cancer screening tests recommended by a healthcare provider. Galleri is intended to detect cancer signals and predict where in the body the cancer signal is located. Use of Galleri is not recommended in individuals who are pregnant, 21 years old or younger, or undergoing active cancer treatment.
Results should be interpreted by a healthcare provider in the context of medical history, clinical signs and symptoms. A test result of ​"No Cancer Signal Detected" does not rule out cancer. A test result of ​"Cancer Signal Detected" requires confirmatory diagnostic evaluation by medically established procedures (e.g. imaging) to confirm cancer.
If cancer is not confirmed with further testing, it could mean that cancer is not present or testing was insufficient to detect cancer, including due to the cancer being located in a different part of the body. False-positive (a cancer signal detected when cancer is not present) and false-negative (a cancer signal not detected when cancer is present) test results do occur. Rx only.
GRAIL's clinical laboratory is certified under the Clinical Laboratory Improvement Amendments of 1988 (CLIA) and accredited by the College of American Pathologists (CAP). The Galleri test was developed, and its performance characteristics were determined by GRAIL. The Galleri test has not been cleared or approved by the Food and Drug Administration. GRAIL's clinical laboratory is regulated under CLIA to perform high-complexity testing. The Galleri test is intended for clinical purposes.
Klein EA, Richards D, Cohn A, et al. Clinical validation of a targeted methylation-based multi-cancer early detection test using an independent validation set. Ann Oncol. 2021;32(9):1167-77. DOI:https://doi.org/10.1016/j.annonc.2021.05.806.

US Preventive Services Task Force. Recommendations Cancer. Accessed 7Mar2023. https://www.uspreventiveservicestaskforce.org/uspstf/topic_search_results.

Schrag D, McDonnall CH, Naduld L, et al. PATHFINDER: A Prospective Study of a Multi-Cancer Early Detection Blood Test. Presentation at European Society of Medical Oncology (ESMO) Congress September 9-13, 2022; Paris, France.

Hubbell E, Venn O, Shanmugam A. Shared Cancer Signal: Evidence from Cross-Training. Presentation at USC Computational Biology Symposium; May 19-21, 2022; Los Angeles, CA.

Surveillance, Epidemiology, and End Results (SEER) Program (www.seer.cancer.gov) SEER*Stat Database Incidence - SEER Research Limited-Field Data, 21 Registries, Nov 2020 Sub (2000-2018) - Linked To County Attributes -Time Dependent (1990-2018) Income/Rurality, 1969-2019 Counties, National Cancer Institute, DCCPS, Surveillance Research Program, released April 2021, based on the November 2020 submission. Risk Factor Data on file: American Cancer Society Cancer Prevention Studies II/III.

NIH/National Cancer Institute. Genetic testing for inherited cancer susceptibility syndromes. Accessed 3Mar2023. https://www.cancer.gov/about-cancer/causes-prevention/genetics/genetic-testing-fact-sheet.

American Cancer Society. Cancer Facts & Figures 2022. Atlanta: American Cancer Society; 2022 https://www.cancer.org/research/cancer-facts-statistics/all-cancer-facts-figures/cancer-facts-figures-2022.html. Data on file GA-2021-0065.