The Missing Piece in Employee Cancer Benefits
When it comes to employee benefits programs, cancer detection and care are evolving.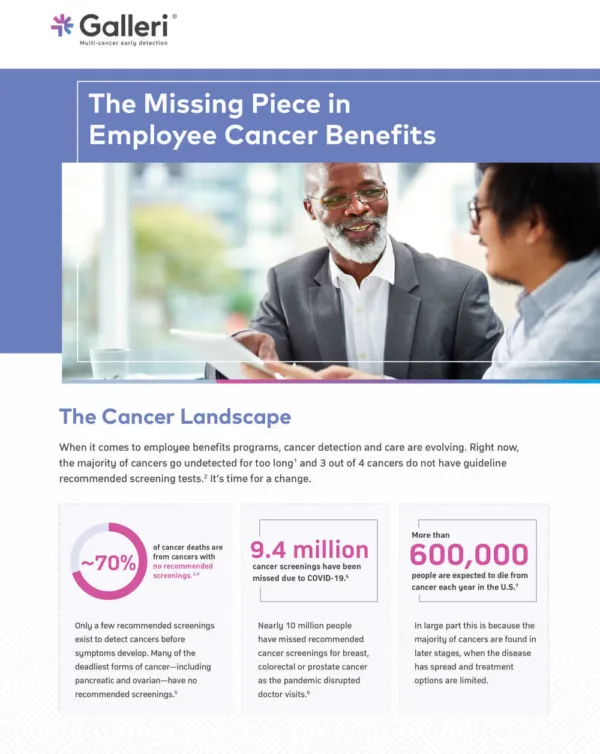 Sign up for more information about the Galleri test
The Galleri test is recommended for use in adults with an elevated risk for cancer, such as those aged 50 or older. The Galleri test does not detect all cancers and should be used in addition to routine cancer screening tests recommended by a healthcare provider. Galleri is intended to detect cancer signals and predict where in the body the cancer signal is located. Use of Galleri is not recommended in individuals who are pregnant, 21 years old or younger, or undergoing active cancer treatment.
Results should be interpreted by a healthcare provider in the context of medical history, clinical signs and symptoms. A test result of ​"No Cancer Signal Detected" does not rule out cancer. A test result of ​"Cancer Signal Detected" requires confirmatory diagnostic evaluation by medically established procedures (e.g. imaging) to confirm cancer.
If cancer is not confirmed with further testing, it could mean that cancer is not present or testing was insufficient to detect cancer, including due to the cancer being located in a different part of the body. False-positive (a cancer signal detected when cancer is not present) and false-negative (a cancer signal not detected when cancer is present) test results do occur. Rx only.
GRAIL's clinical laboratory is certified under the Clinical Laboratory Improvement Amendments of 1988 (CLIA) and accredited by the College of American Pathologists (CAP). The Galleri test was developed, and its performance characteristics were determined by GRAIL. The Galleri test has not been cleared or approved by the Food and Drug Administration. GRAIL's clinical laboratory is regulated under CLIA to perform high-complexity testing. The Galleri test is intended for clinical purposes.
Surveillance, Epidemiology, and End Results (SEER) Program (www.seer.cancer.gov) SEER*Stat Database: Incidence — SEER 18 Regs Research Data. Nov 2018 Sub. Includes persons aged 50 – 79 diagnosed 2006 – 2015. ​"Early/​Localized" includes invasive localized tumors that have not spread beyond organ of origin. ​"Late/​Metastasized" includes invasive cancers that have metastasized beyond the organ of origin to other parts of the body.
Noone AM, Howlader N, Krapcho M, et al. (eds). SEER Cancer Statistics Review, 1975 – 2015, National Cancer Institute, Bethesda, MD, http://seer.cancer.gov/csr/1975_2015/, based on November 2017 SEER data submission, posted to the SEER website April 2018.
Henley SJ, et al. Annual report to the nation on the status of cancer, part I: National cancer statistics. Cancer. 2020;126(10):2225 – 2249. DOI: doi.org/10.1002/cncr.32802.
Screening includes methods recommended by United States Preventative Task Force (USPSTF) A, B and C rating which includes breast, colon, cervical, prostate, and lung. https://www.uspreventiveservicestaskforce.org/
Other cancer screening tests are available but may not be routinely recommended as standard of care for all patients.
For patients at high risk of lung cancer.